Create high-quality engaging video content using AI Technology. No design or video editing skills needed. Simply add your script into the system and the AI-powered software moulds it into a premium video quickly and proficiently.
A unique game changer application in content creation for elearning and marketing sectors!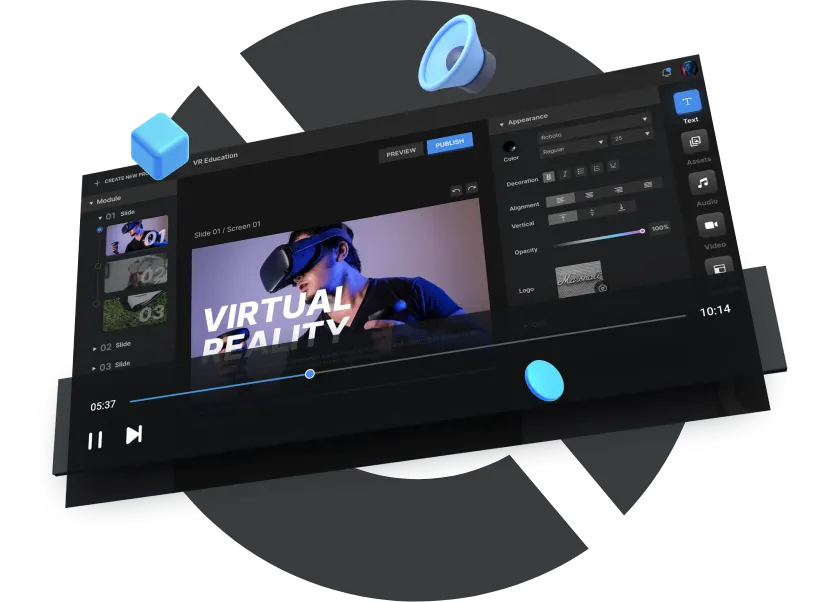 Everything you need to know about AI content production
Months of production process is cut down to days or even hours with the dynamic AI-based content authoring tool. 
Production Automation Flow
Script/Visual Keywords/Brand Guidelines
Selects appropriate templates, visual assets (footage, images, illustrations) and merges it all together
The following are some of the key features of the system.
The user only needs to provide the script and the information for the visual assets. The system does the hard work of selecting appropriate templates and putting assets together and creating the video.
Access to continuously expanding library of 100s of native professionals templates
Project-wise Branding Option
Ability to select your own colour and font style per project
The selected brand input is seamlessly applied to all the templates in the project, providing consistent style for your videos.
Native repository of assets
Access to 1000s of local repository of images, illustrations, videos, fonts.
API Integration with online libraries
Access to 1000s of additional images, illustrations and videos through API integration with online libraries
Ability to upload your own images/videos to add to the project
Use of AI to search and apply the most appropriate images to the template based on the input tags
The Olive AI Content Pro uses the well-crafted library of professionally designed templates, huge repositories of graphics, images, illustrations, video clips, audio and fonts to automatically create high-quality engaging videos.
Simply start with your script or present your content on a virtual call and use AI to generate the script
Add your script and the tags for the visual assets (videos, images, illustrations, text) to the AI Engine
Input the brand guidelines and the voice over for the videos or use a high quality system generated voice-over.
AI Engine analyses the input and pulls the relevant templates and graphical resources (images/icons, fonts, audio files, video footage) from the repositories.
AI Engine combines all the assets into the professionally designed templates and renders out the video file.
The #1 training platform trusted by the best educators.
The NRF and Olive Group's missions are aligned to improve the accessibility of education and training to the NRF's members.